SIMPLE SOLUTIONS #5: HAPPY DIGESTION:  KEEPING IT ALL "RUNNING" SMOOTHLY
(Note: If you don't yet know what Essential Oils are and why we in the world are singing their praises, go HERE.)
(Now, remember your WISH LIST! Need to add Happy Digestion to the list? We all need it at different times. I like to have these products on hand…just in case.)
Now let's get going….
Sorry, if we are going to talk digestive issues, I gotta make a joke to keep it light! But doesn't digestion that "runs smoothly" sound good??
We ALL suffer from occasional digestive "stuff". What if we could keep this system stronger? Oh, yeah, we can!
There are quite a few products that you can use that will keep your digestive system running smoothly, but here are a few of my faves:
Oil-Infused Products:https://www.youngliving.com/us/en/product/life-9
Digest + Cleanse: I take this one on vacation with me — when my diet can be less than optimal. I'll let Young Living describe this lovely supplement: "Digest + Cleanse™ soothes gastrointestinal upset and supports healthy digestion.* Stress, overeating, and toxins can irritate the gastrointestinal system and cause cramps, gas and nausea that interfere with the body's natural digestive and detox functions. Supplementing with Digest + Cleanse will soothe the bowel, prevent gas and stimulate stomach secretions, thus aiding digestion.* Digest + Cleanse is formulated with clinically proven and time-tested essential oils that work synergistically to help prevent occasional indigestion and abdominal pain.*" Sounds good, eh?
Life 9: Probiotic – the healthy gut bacteria we all need. And this one is a doozy! I have used probiotics for years. I have never found a more complete probiotic. Ever.

Life 9 contains 17 billion live cultures from nine beneficial bacteria strains! It supports healthy immune function, helps maintain optimal metabolism, and promotes normal intestinal function. (And do you know how important gut health is to, well, everything? It effects your immune system, your brain, your mood. It is crucial to your health!)

KidScent Mighty Pro – a prebiotic AND probiotic for the kids that tastes great and features over 8 billion active, live cultures specially formulated to support gastrointestinal, digestive, and immune health.
Essential Oils:
Peppermint Vitality**:

Peppermint for our tummy. Use peppermint tea for an upset tummy? The oil is even more potent! 

DiGize Vitality**: Containing TONS of plants you are familiar with for digestive support, ginger, fennel, peppermint and more, this oil is

awesome

to have on hand – just in case!

TummyGize

: Tummy stuff for the Little Ones!
Can we help you?
We would so love to have you in our community! Do you have questions? If we can answer anything for you, please ask! You can leave a message HERE. Otherwise, let's see if these gems from nature are the solution to YOUR greatest challenges!You can join our fabulous community by placing an order through any of us. Either go back to the person who connected you to this series or, if you can't remember, click HERE to get started! One of our team members will personally contact you in the next few days!
** Items that come in the Premium Starter Kit.
*** Worth a google search. These components are the crucial aspects of the oils!
Oil in Recipe:  Young Living Peppermint Essential Oil**
Tummy Support Tea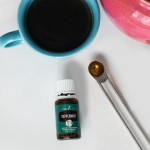 Enjoy this as an after-meal tummy support tea.
Young Living Peppermint Essential Oil is SUPER STRONG. You do not want to simply add a drop to a cup of tea. Use 32 oz of water per single drop of Peppermint Essential Oil. (I fill a 32oz pitcher of water and add a drop. Then I gently heat 8 oz for a cup of warm, but not boiling, tea.)