SIMPLE SOLUTIONS #3: IMMUNE SUPPORT – HERE'S TO STAYING HEALTHY!
(Note: If you don't yet know what Essential Oils are and why we in the world are singing their praises, go HERE.)
(Now, remember your WISH LIST! If STAYING HEALTHY isn't on it, well, it should be, add the products you find intriguing as you go along.)
Now let's get going….
What if you could STAY HEALTHY … or, at least healthier? (Sometimes your number is just up and you are going to get sick!)
What would it be worth to you to not miss work?
Parents, what would the value be of being able to keep YOUR immune system strong when little ones are sick? (Or keep theirs strong when YOU are sick?)
Or keep the WHOLE household feeling fabulous all year round?
Simply using the oils on a regular basis, in general, is going to help you be healthier BUT we do have products specifically designed to keep that immune system working in tip top shape!
Essential Oil-Infused products:
Inner Defense:

Oh, how I love thee. This supplement has saved me on many occasions. Created specifically to support all of the systems of the body from the onslaught of toxins and chemicals from our water supply, the air, our food, etc, the mainstay of Inner Defense is Young Living's proprietary essential oil blend,

Thieves Vitality

(read below). 

ImmuPro:

I already talked about this one in our post on

Relaxation & Sleep

. Love, love, love this supplement! It gives me a good night's sleep which helps my immune system replenish.

Thieves Products:

Thieves Essential Oil Blend is so incredible, Young Living has a whole series of products based on this oil. You can tap into its immune support properties throughout the day: brushing teeth (

toothpaste

,

floss

,

mouthwash

),

washing your hands

, using

hand sanitizer

,

wiping down

… well, anything!,

spraying down the faucets

,

mints

(easy way for kids to get some Thieves in school), cleaning your fruits and veggies, 

cleaning

(yes, even cleaning!) … you get the idea! And there is so much more!
We are adding to this post (and to most of them), NingXia Red. This product will help with pretty much anything. #Truth.
NingXia Red

**: antioxidant beverage that will keep your immune strong. If I feel like when I need a little somethin', somethin', I up my intake to 4-6 oz a day.
Essential Oils:
Thieves Vitality Essential Oil Blend**:

a blend was inspired by the legend of four, 15th century French thieves who formulated a special aromatic combination of clove, rosemary, cinnamon, eucalyptus and lemon. They used these oils to keep their immune systems strong while robbing the dead and dying. 

ImmuPower Essential Oil Blend:

Oh, yes, there's another oil that supports the immune functions of the body!

Frankincense Essential Oil**:

  A true workhorse that comes in the Premium Starter Kit (the kit you get when you you pick the best deal to start a  wholesale membership of Young Living.) Frankincense has so many uses. One of which is immune system support.
** Items that come in the Premium Starter Kit.
*** Worth a google search. These components are the crucial aspects of the oils!
Is it time?: 
Have you heard enough? Or do you have questions? If we can answer anything for you, please ask! You can leave a message HERE. You can join our fabulous community by placing an order through any of us. Either go back to the person who connected you to this series or, if you can't remember, click HERE to get started! One of our team members will personally contact you in the next few days!
Today's Recipe: Awesome foot soak for when you need to feel a bit better.
Oils in the recipe:
Frankincense – has been used in religious rituals for over 3,000 years. It has been known to enhance immunological function, beautify skin, and increase spiritual awareness.
Thieves – known for immune support and cleansing properties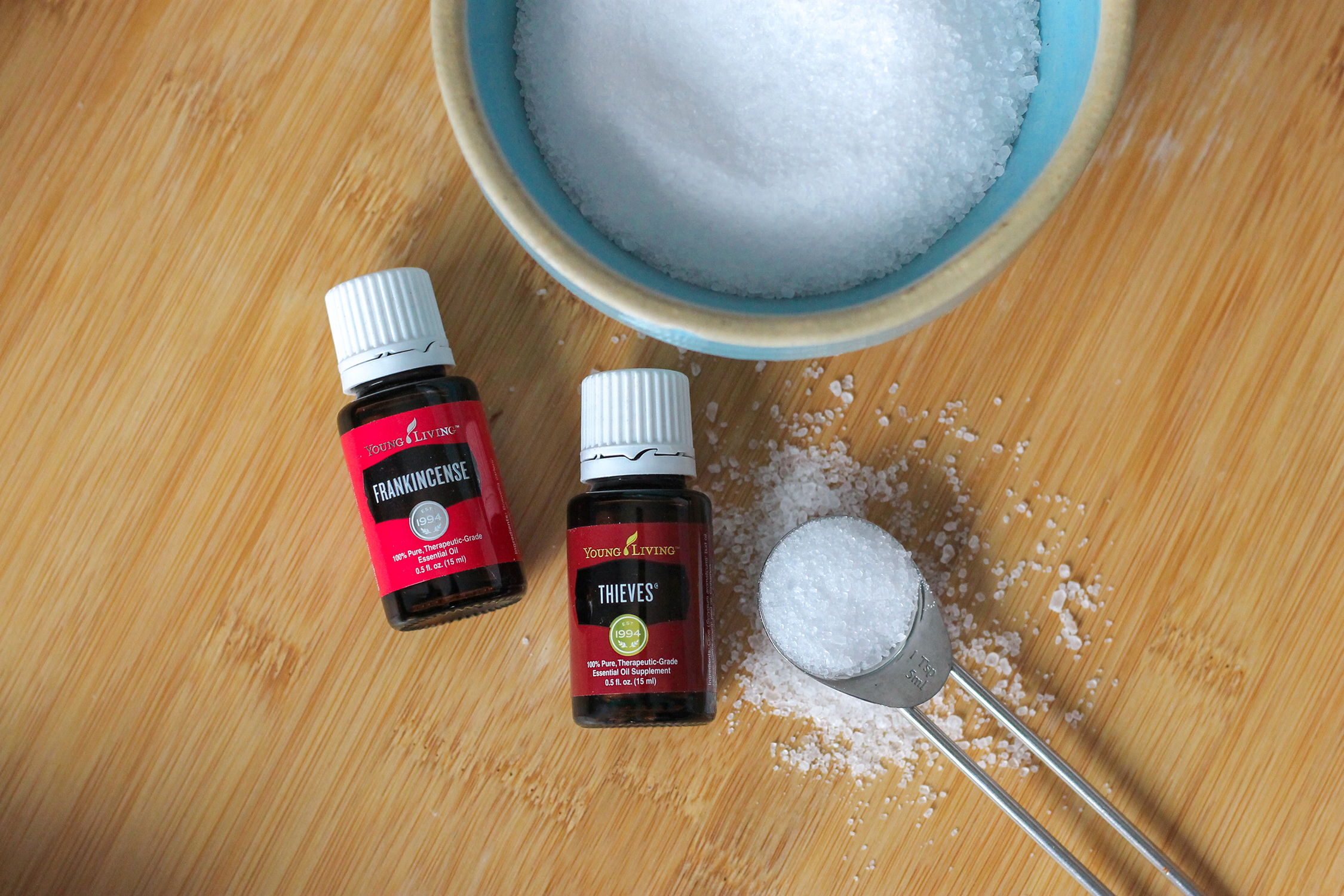 Salt Foot Soak: Thieves + Frankincense
Use this for a foot bath or in a full bath whenever you need a bit more, you know, umph!
Ingredients
2

cups

Epsom Salts

8+

drops

Young Living Frankincense Essential Oil

8+

drops

Young Living Thieves Essential Oil Blend
Notes
Add the ingredients into a glass, 2-cup jar. Add 1/4 cup into a container to soak your feet or 1 cup into a full bath.