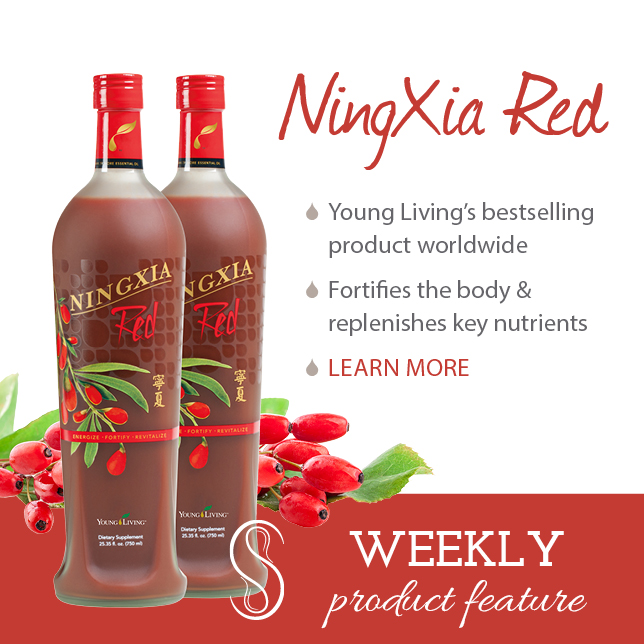 Energize, Fortify and Revitalize With NingXia Red
Why did we start our website and team release off with NingXia Red? Because it is crazy amazing, that's why!  In fact, outside of the oils, NingXia Red is my all-time favorite Young Living product! Once I started drinking it and noticing the benefits, I made the decision that I WILL NOT go a single day without it ever again! I love how energized I feel and I simply have an overall feeling of wellness.
Wolfberry | Goji Berry
The main ingredient of this miracle juice is the wolf berry, a type of goji berry, found in the NingXia provence of China.  Long used with incredible success by Chinese Olympic athletes, the wolf berry is known for its anti-oxidants (which helps athletes recover).
For centuries, residents of the Ningxia district of northern China have enjoyed the astonishing health and longevity supporting benefits of the wolfberry that grows there.* However, due to the Ningxia region's physical and political isolation, knowledge of this potent superfruit remained relatively hidden from Western culture—until recently.
While in China, Gary also learned that Chinese biochemists at the Ningxia Institute of Nutrition had analyzed the wolfberry and found it to be one of the most nutrient-dense foods on the planet. Gary became convinced that this superfruit needed to be made available to the world.
But there's more! Here are just a few of the great benefits:
High antioxidant levels: Neutralizes free radicals – yep, antioxidants are the anti-aging miracle compound!
Low glycemic index: Doesn't have a strong effect on blood sugar.
Contains: NingXia wolf berries: They provide a natural source of calcium and magnesium, Vitamin B, antioxidants and more.
Infused with essential oils: Orange, Yuzu, Lemon and Tangerine essential oils; all of which are high in d-limonene which promotes normal cell life cycles (yep, more anti-aging!).
Supports the body from head to toe: Yes, head…to…toe. This stuff feels good as it is going down!
Ready to try some NingXia Red for yourself? You get two sample packets in the oil Starter Kits! There is even a NingXia Red Starter Kit available in the US. You can also purchase NingXia Red by the bottle or in 2-oz packets that are great for on-the-go enjoyment.
I like to toss a couple of the single serving packets in the freezer to enjoy on a warm day. Although NingXia Red is already infused with essential oils, you can always add your favorites. I love adding an additional drop of Orange essential oil to my serving.
If you become a NingXia Red fan like myself, I highly recommend the NingXia Red Essential Rewards pack. You get a great combo of bottles and single serve packets at an awesome price!
You can read more about NingXia Red at Young Living.
* This statement has not been evaluated by the Food and Drug Administration. This product is not intended to diagnose, treat, cure, or prevent any disease.