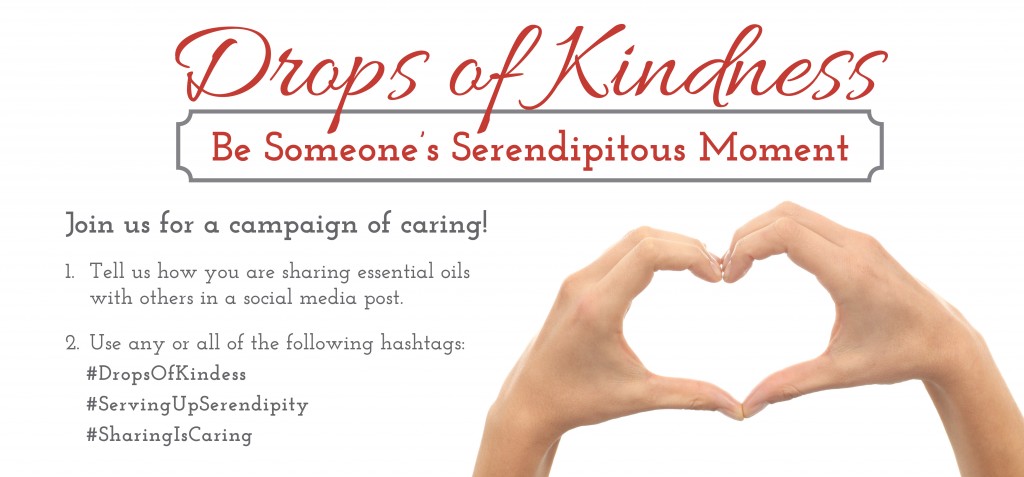 Remember that moment when you realized just how much the oils were helping you? It might have been one particular, dramatic, experience the oils helped you feel calmer, helped you sleep more soundly or helped release that knot in your neck that had been plaguing you. Whatever it was, you felt that gratitude for the oils.
We call it our "Serendipitous Moment", that moment of deep appreciation that someone took the time to tell us about the oils.
Now it's YOUR turn!
This month's challenge is to share your oils with someone who needs them! 
Be the source of someone else's Serendipitous Moment!
We have little 1ml bottles to share with anyone on Simply Serendipity's oils team to help! Just ask the person who introduced you to the oils to get some – or you can comment here and we will send you some.
Then let us know you have shared! Post on your FB page or on the Sharing Essential Oils with Simply Serendipity Facebook page and use one of the following hashtags:
#DropsOfKindness
#SharingIsCaring
#ServingUpSerendipity
NOW, if that person happens to get excited, you don't need to send them to your sponsor! Sign them up yourself! You don't ever, ever, ever, ever have to "do the business". But the person who signs people up earns a $50 thank you check from Young Living. Yep, $50!! Someone is going to earn it, it might as well be you. All you need to do is place a 50pv order in the same month. (So, it's kinda like getting your order for free!)
Now let's add to the fun!
It's RAFFLE time!
You earn 1 ticket for each time you share the oils! EVERY time. While we would love if you posted each time, we are going on the honor system, so you keep track.
NOW, if that person happens to sign up, THEN you earn FIVE TICKETS.
Prizes will be announced throughout the month with flash prizes for the people in the lead happening at random times, so get sharing. BUT I DO want to share the GRAND PRIZE because it's a GOOD ONE!!
The GRAND PRIZE IS: A bottle of Peace & Calming!
Ready? Go out there and Be Someone Else's Serendipitous Moment!