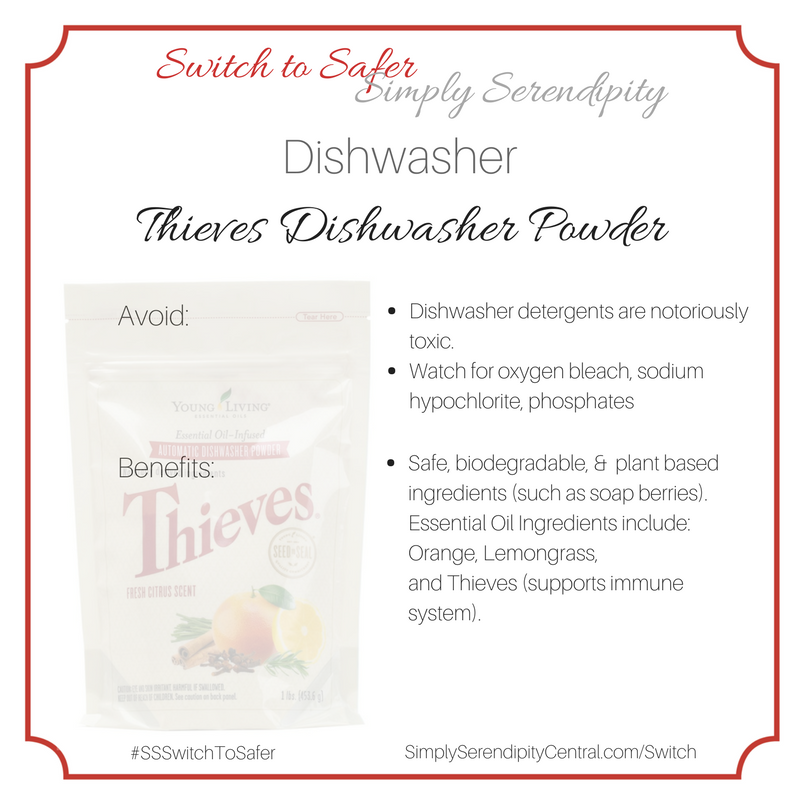 Clean up the Kitchen
Thieves Dish Soap & Thieves Dishwasher Powder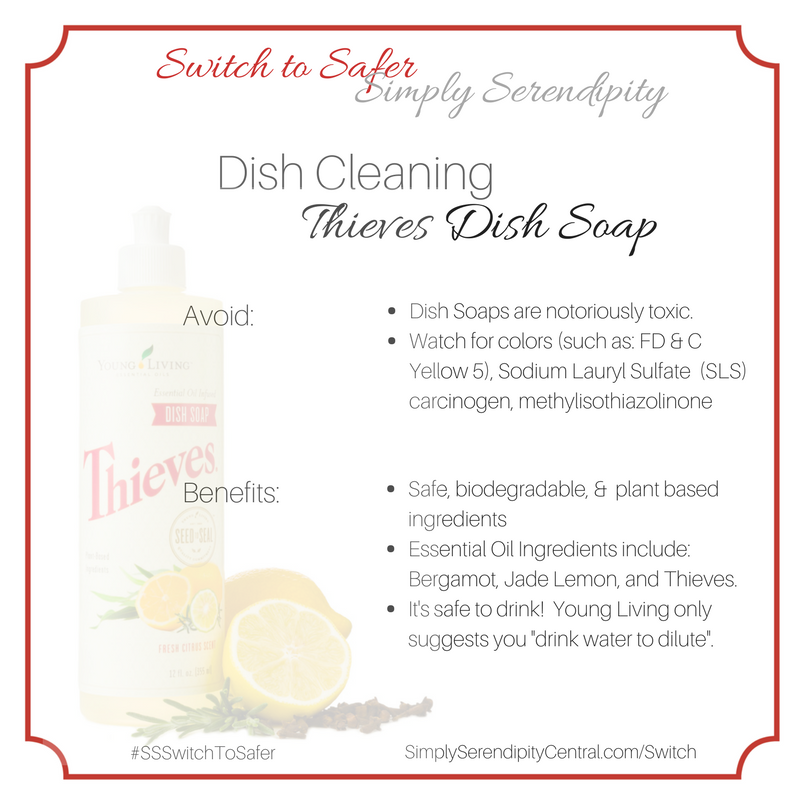 Enjoy the entire Switch to Safer series!
Click here!
Do you love the smell of clean dishes when you open the dishwasher?  I do too, or at least I did until I learned that dish soap can be one of the most toxic chemicals under the kitchen sink.  And, the lovely smell is only the product of harsh toxins.  I don't want toxins on the dishes that I eat off of – or any dishes for that matter.
Dishwasher Detergent:
Many common dishwashing detergents show up as a "D" or "F" on the EWG database. Check your out AND consider…switching to safer!
What to avoid: Products with:
Oxygen Bleach – adverse effects on endocrine and reproductive as well as overall adverse effects on development.
Sodium Hypochlorite – rated an "F" on EWG's website, this toxin has a potential link to cancer and may affect the reproductive system.
Phosphates – high concern for the environment (especially in aquatic ecosystems).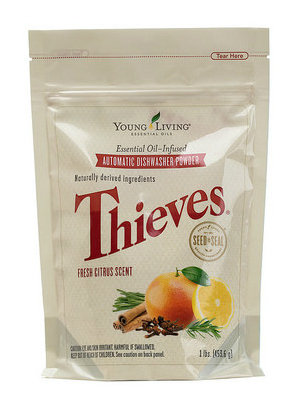 Switch to Safer: Thieves Automatic Dishwasher Powder
It's so concentrated that you only need 1 tablespoon per load!
Safe, biodegradable, &  plant based ingredients (such as soapberries).
Essential Oil Ingredients include: Orange, Lemongrass, and Thieves (supports immune system). (Link) 
Dish Soap:
What to avoid:
FD & C Yellow 5 – potential carcinogen (cancer causing) & risk to reproductive system.
Sodium Laureth Sulfate – potential damage to DNA & vision, potential carcinogen.
Methylisothiazolinone – commonly found in dish soap, a synthetic preservative with a potential link to allergies. (Link)

Switch to Safer: Thieves Dish Soap
Plant based ingredients!
Essential Oil Ingredients include: Bergamot, Jade Lemon, and Thieves (supports immune system).
It's safe to drink!  Young Living only suggests you "drink water to dilute".
Hack: combine Thieves Dish Soap (enough to thoroughly coat the bottom) and water in a foaming hand soap dispenser.  Now washing that one little dish is so much easier – just push and go!
What are you waiting for?  It's time to switch to safer!  It's time to switch to Thieves Automatic Dishwasher Powder and Thieves Dish Soap!
Ready to take the next step?
Sources:
https://static.youngliving.com/en-US/PDFS/ThievesDishwasherPowderPIP.pdf
https://static.youngliving.com/en-US/PDFS/ThievesDishwasherPowder%20_Infographic_USo.pdf
https://static.youngliving.com/en-US/PDFS/Young_Thieves%20Dish%20Soap.pdf
https://static.youngliving.com/en-US/PDFS/ThievesDishsoap%20pip.pdf
http://www.ewg.org/guides/substances/14153-SODIUMHYPOCHLORITE#.WZZRzHeGOu4
http://www.ewg.org/guides/cleaners/1605-CascadePowderDishwasherDetergent#.WZZSMHeGOu5