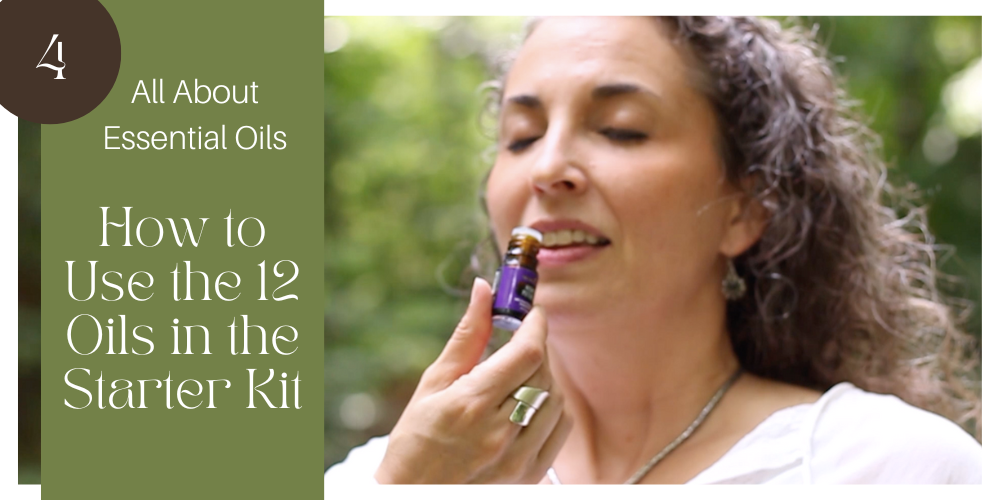 Video #4: How to Use the 12 Oils in the Starter Kit
Let's now get more specific. We are going to look at eleven oils and how I use each one. These eleven oils are part of Young Living's Starter Kit. A great start to an oil collection. Young Living has over 200 oils so this is just a few to get us started!
(Note: I say much more about each oil and how I use them in the video.)
How to Use 12 Oils:
Frankincense: Uplifting + great for the skin + mood support 4:05 – Peace & Calming + Stress Away
Thieves Vitality:Supports the immune system. Add a drop to your water throughout the day! I love knowing I don't have to get sick when my kiddos get sick and vice versa. Yeah, it's that good!
Lemon Vitality: Great in cooking and water! A natural body detoxifier. If you use lemon juice in your water in the morning for detoxing, the acid can eventually harm your teeth. Lemon Essential Oil comes from the rind rather than the juice so it is alkaline rather than acidic. Plus, it is infinitely less messy and cheaper.
Peppermint Vitality: Good for digestion, good breath and a dose of umph! One drop of Peppermint Vitality has the same therapeutic value of 28 cups of peppermint tea. Yep, it's that potent!
Citrus Fresh Vitality: A blend of 5 citrus oils and spearmint, you get a little upliftment with this gem!
DiGize Vitality: Supports the digestive system – whether the issue is going in…or coming out ;-).  Soooo, no matter what your digestive system needs, the oil can support it!
Lavender Essential Oil: Very calming and a great sleep oil. This oil is also a workhorse — it has over twice as many chemical constituents as an average essential oil which means it has many more therapeutic qualities. Grab this oil if you aren't sure what oil might help!
Valor Essential Oil: Grounding…so good when your mind is running out of control.
Panaway Essential Oil: Lovely for the muscles and joints. I love to use it across the shoulders just before bed. So yummy!
Raven Essential Oil: So good for breathing – think eucalyptus.
Frankincense Essential Oil: Uplifting aroma and great for the skin. Also a workhorse, Frankincense is known for many uses. 
Stress Away + Peace & Calming Essential Oil: Use as the name suggests! 🙂
Video #5: Next comes a quick video on how to use these oils safely!
Ready to ORDER?
We would love to welcome you into our wellness community: S I M P L Y :: the wellness place.
All it takes is a single order from Young Living via a referral link from a current member of the wellness place.
OR, if you found us along the way, use this link. We will totally hook you up with someone to help you:
Order here
(You will see your enroller as Senja, Inc. – that's us!)
Previous Video #3
Does Purity Really Matter?
Next Video #5
How to Use Essential Oils