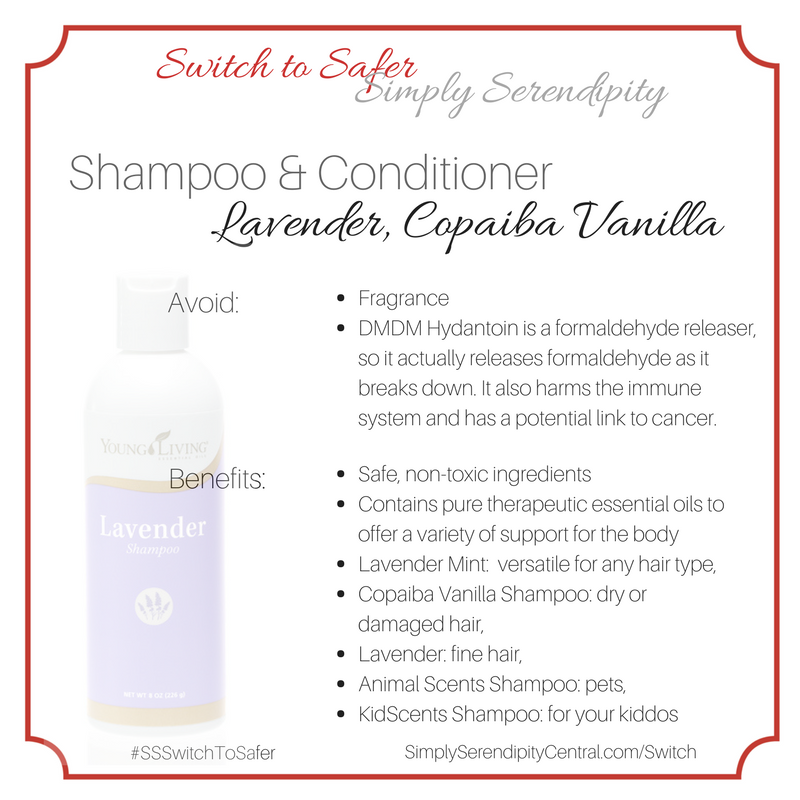 Shower Products
Shampoo, Conditioner, Shower Gel & Shaving Gel
Enjoy the entire Switch to Safer series!
Click here!
You shampoo your hair all the time.  You probably conditioner it, too.  These products are directly on your body, and they have access to one of your most important organs – your brain.  Don't you want to ensure they are safe?
Shampoo:
What to avoid:
"Fragrance" is a blanket termed used by companies to hide a plethora of toxins.  It can irritate skin/eyes/lungs and harm organs.
DMDM Hydantoin is a formaldehyde releaser, so it actually releases formaldehyde as it breaks down. It also harms the immune system and has a potential link to cancer.
Methylisothiazolinone is a skin/eyes/lungs irritant and is toxic to the nervous system.

Switch to Safer: one of Young Living's shampoos
Conditioner:
What to avoid:
Methylisothiazolinone – again!  (see shampoo)
1,4 – Dioxane is toxic to organ systems and has a potential link to cancer.
Diethanolamine rates a 10 (the lowest possible) on the Environmental Working Group's Skin Deep scale.  This chemical is toxic to organ systems, its an irritant, and can contaminate.

Switch to Safer: one of Young Living's conditioners
Contains none of the scary ingredients above!
Not only do you clean your hair, but you also get the amazing benefits of Young Living's Essential Oils every time you wash your hair!
There are different types of Young Living conditioners, so you can find the right one: Copaiba Vanilla Conditioner is designed for dry or damaged hair,  Lavender Volume Conditioner is created for fine hair, and Lavender Mint Daily Conditioner is perfect for all hair types.
So, what are you waiting for?  It's time to Switch to Safer.  It's time to add Young Living's shampoos and conditioners to your bathroom!
Ready to take the next step?
Sources:
http://www.ewg.org/skindeep/product/479465/Dove_Moisturizing_Shampoo%2C_for_Dry_or_Damaged_Hair%2C_Intense_Moisture/#.WZ3QE3eGOu6
http://chemical-sensitivity.info/chemicals-in-hair-conditioner/
http://www.ewg.org/skindeep/ingredient/718373/DIETHANOLAMINE/#.WZ4eEneGOu4