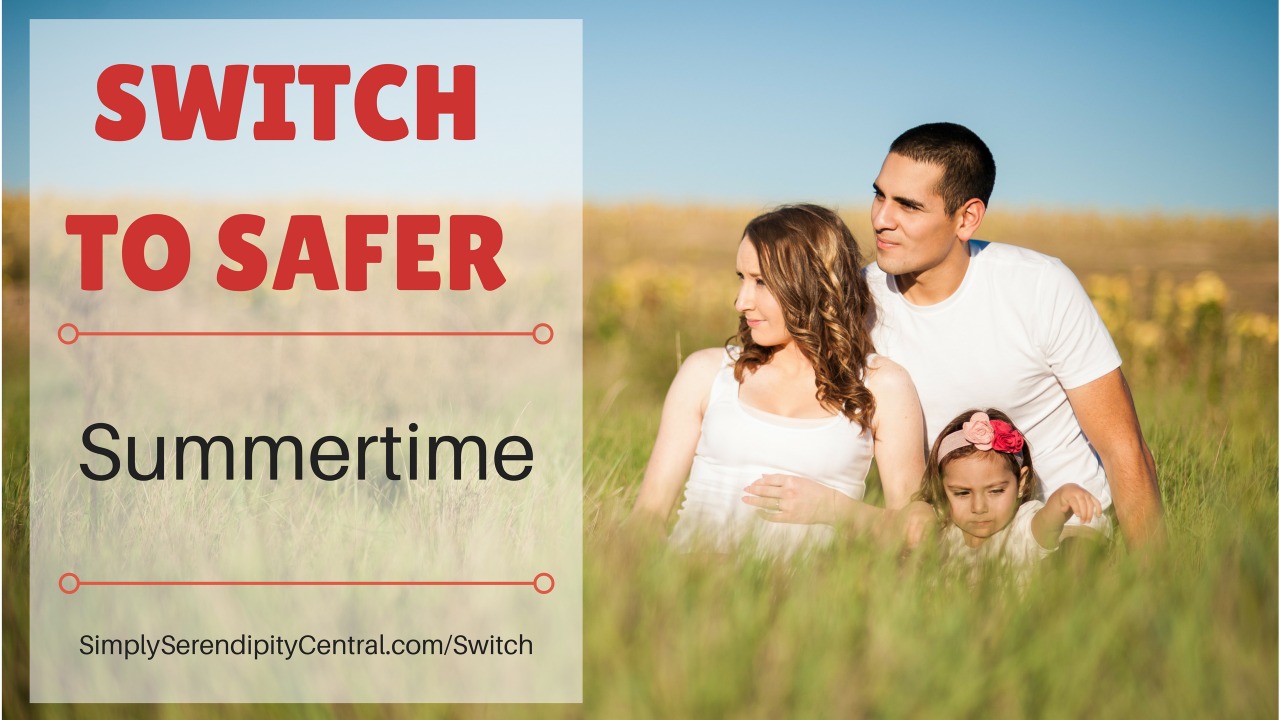 Enjoy the entire Switch to Safer series!
Click here!
You use sunscreen and bug spray to protect yourself from the dangers of the sun and bugs.  So, why do you always feel the need to shower after using those products?  And, what if they offer more harm than help?
Sunscreen:
You can read more about sunscreens on our other post here.
What to avoid:
Oxybenzone is a hormone disrupter.
Retinyl Palmitate can actually harm skin exposed to the sun.
SPFs above 50 are not necessarily better than SPFS under 50.  50+ SPF sunscreens may only block 1% more of the sun's rays, so it's not actually protecting you twice as much.  Additionally, testing SPF is highly sensitive, so a few changes (such as amount applied) can make a SPF 37-50 appear to be SPF 100.  So, the labelling can be very misleading.
Switch to Safer: Mineral Sunscreen Lotion (Link)
Ingredients are plant and mineral based (which definitely excludes all of the chemicals above).
Contains Helichrysum, Carrot Seed, and Frankincense Essential Oil, all of which support the skin system.
Blocks UVA and UVB sun rays.
SPF 10 is sun and water resistant for 80 minutes.  And, in my experience, is definitely enough to prevent burning.

Bug Spray:
You can read more about insect repellent on our other post here.
What to avoid:
You always feel like you need to shower after using it.
DEET
Switch to Safer: Insect Repellent (Link)
"Formulated with essential oils traditionally recommended for their bug repellent properties" including Citronella, Lemongrass, and Rosemary.
Formulated for both adults and children.
Hypoallergenic, non greasy, and all ingredients are plant based.

LavaDerm After Sun Spray: (Link)
A really nice product that is the perfect end to a sun filled day.
All ingredients are plant based.
Contains Lavender Essential Oil. 
"Temporarily relieves pain and itching associated with minor burns, sunburn…."

What are you waiting for?  It's time to switch to safer!  It's time to add these products to your days at the beach.
Ready to take the next step?
Sources:
http://www.ewg.org/sunscreen/report/whats-wrong-with-high-spf/#.WaHgi3eGOu4
http://www.ewg.org/sunscreen/about-the-sunscreens/727082/#.WaHiUXeGOu5