Laundry Detergent
Thieves Laundry Soap
Enjoy the entire Switch to Safer series!
Click here!
Ready to detox arguably the most toxic room in your house? Your laundry room.
Detergents are notoriously full of toxins. Dryer sheets are rated one of the most toxic products in your home.
Enjoy that lovely smell from your dryer? And in your closet 24/7? Outgassing of toxic chemicals. "Fragrance" is a term manufacturers can use to hide hundreds of toxins under the guise of "trade secrets".
Many detergents also contain optical brighteners, a term that refers to dozens of chemicals, many of which are toxic, that stay on your clothes to help your whites look whiter.
Keeping in mind, clothing stays on your skin all day. In other words, toxins found in your clothing stays on your skin all day, absorbing into your bloodstream.
Tide is one of the most common detergents on the market. Shall we see how it rates for toxicity Looking at the Environmental Working Groups Database, Tide has a total of 116 products listed. Out of the 116, 75% received an "F" rating, 21% received a D and only TWO products received a C.  0% earned an "A" or "B".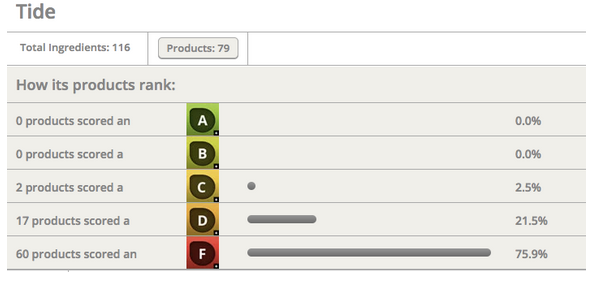 So what are your options?
Thieves wins again! Thieves Laundry Soap has a plant-based formula and is free from SLS (sodium lauryl sulfate), dyes, petrochemicals, formaldehyde, phosphates, synthetic perfume, and optical brighteners.
Yep, it smells great but the lovely aroma comes from the purest essential oils in the world: Thieves, Jade Lemon™, and Bergamot essential oils.
Dryer Sheets:
What to do about your dryer sheets? Try wool dryer balls. I use 4 in the dryer and add essential oils to the balls. I like Lavender Essential Oil for sheets and Purification Essential Oil Blend for towels or athletics clothes. Use whatever essential oil you are enjoying.
Don't have dryer balls? Use a damp washcloth in the dryer with a few drops of oil. Easy peasy.
Stain Stick:
We used to LOVE OxiClean. (Truth be told, we tossed this one just a few days ago when I was doing research for this project. It rates a C on the EWG website. Yep, it's gone. And, just an FYI, OxiClean for Baby Stains Spray is also a C.)
Now we made a super easy stain stick: straight Thieves Household Cleaner straight in a roll on. Can't wait to try it!
Ready to take the next step?