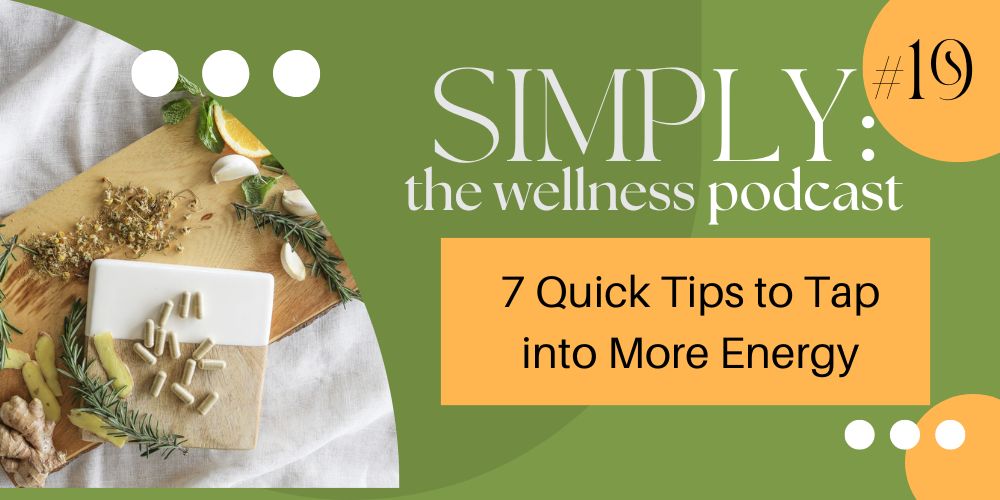 Ever wished you had more energy?
Who hasn't, right?
Our cultural addiction to caffeine and sugar does not help – then we need sleep supplements to get to sleep but wake groggy from them and then need more caffeine and sugar to get through the day.
It's a cycle I have been working on breaking the past year.
In this episode, I share 7 tips I have learned over the year to help me tap into my "True Energy".
In a nutshell:
Better quality sleep – I know, duh, but it's so important! I have 3 suggestions to help you here and we can do an episode on it in the future if you want more.
Fresh air/sunlight first thing in the am – So easy to do!
Movement – Not exercise necessarily, movement. Go for a stroll, stretch a bit. Just get moving.
High quality supplement – We need supplements, we really can't get enough nutrients from food. AND they need to be usable by the body – or we just pee them out. Check out Episode #4 for more. ⁠Listen here⁠.
Hydration – Again, another duh. Stay tuned for the next episode when I share ways to power up your hydration.
Ningxia Red – Young Living's antioxidant drink. It's so good!
Peppermint oil – Check out episode #18 for more. Essentially, peppermint oil stimulates the prefrontal cortex, the part of the brain that does focused thinking. ⁠Listen Here⁠.
==============
Join SIMPLY :: clean:
Check out info about this powerful Lifestyle Reboot and join our next one! 
Have you grabbed the wellness blueprint bundle yet?
It's our FREE, 25-page workbook that the first 8 episodes of our podcast takes you through.
We have a few emails in a follow up with even more support and ideas.
Then you will be on our list to receive our weekly email with wellness tips!
LINKS TO HELP YOU:
You can join our community through a simple order of any Young Living product through a current member of the wellness place. If someone sent you to this podcast, go back to them and let them know you are ready. If you happened upon us randomly, first welcome! Then use the link below to order and we will get you a Personal Concierge.
Check out all the benefits of our joining community and how to order: ⁠Check here⁠.
MORE INFO:
⁠SIMPLY :: Solutions⁠: Ways Young Living can help you with specific concerns.

Find out how to order: ⁠Check here⁠.

Referrer should be: #1519043 – Laura Erdman-Luntz – that's us!
Got a question? Email us: SimplyTWP [@] gmail [.] com
Let's do this thing…together!
From the guilt-free zone,
the wellness place