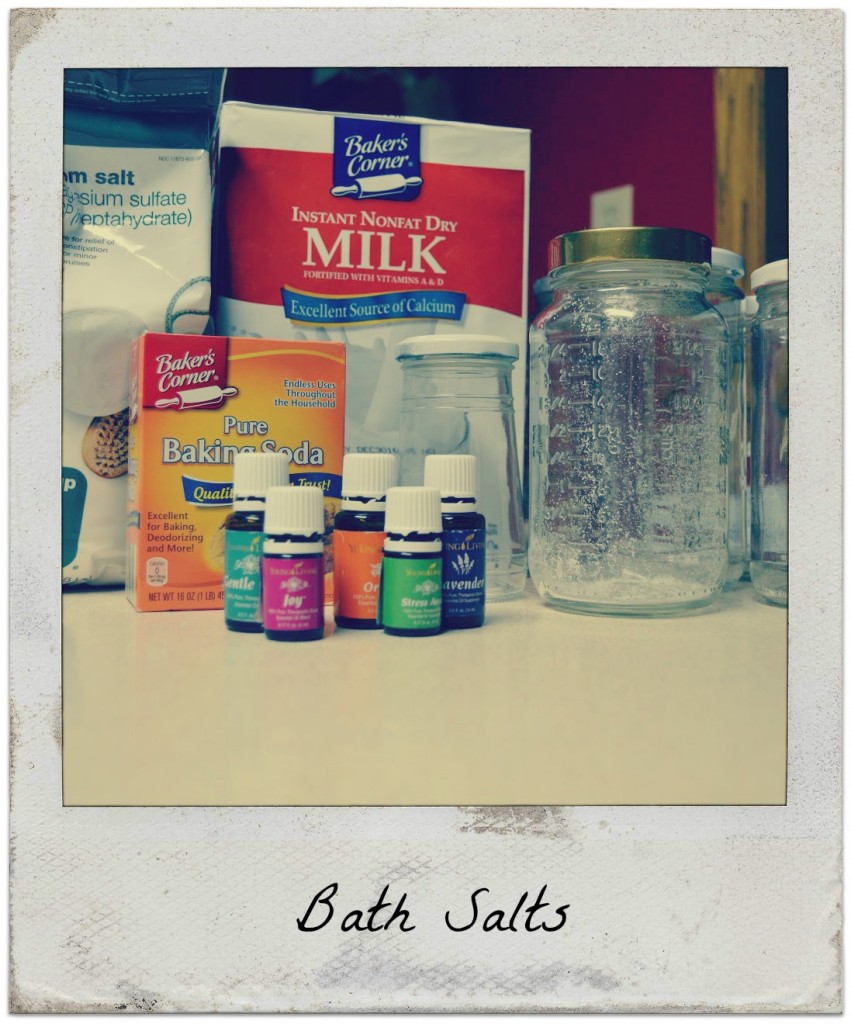 You just started laughing didn't you? You read that title and you thought "Seriously, woman? Are you going to try to tell me how to add essential oils to Epsom Salt?!"  Yes, yes I am. Here is the thing I love about bath salts; you can make it as plain and simple or as fancy pants as you want it to be! I like to keep a few jars handy at all times, they are great to give as a little gift when someone enrolls as a new Young Living member and they can be the perfect pick me up for someone who just needs a small token of affection.
There is nothing more luxurious and relaxing than a bath.
Add in some heavenly essential oils and it is literally cloud nine.
You COULD run yourself a warm bath and just drop your essential oils right into the tub, but chances are your oils will swirl around in puddles on the surface, just little pockets of goodness enclosed in their own delicious scent. (Plus, it can cause skin irritation so you need to be careful using the oils straight.)
How do you get these lovelies to disperse in your bath and safely coat your body in a thin layer of angelic yumminess? You must mix them with an emulsifying agent (you didn't think I knew big words, did you?), such as Epsom salt or a gel base (for instance if you would like to turn your bath into a bubble bath I would suggest using vegetable glycerin, castile soap and your chosen essential oil, but that's a post for another day).
People have been adding Epsom salt or magnesium sulphate to their baths for years, in fact the word Epsom comes from Epsom, England, an area with a bitter saline spring. When the porous chalk dirt springs of the hills meets the non-porous clay soil the salt is formed. Throughout history these areas have been noted as a natural spa, a place to promote healing and wellness.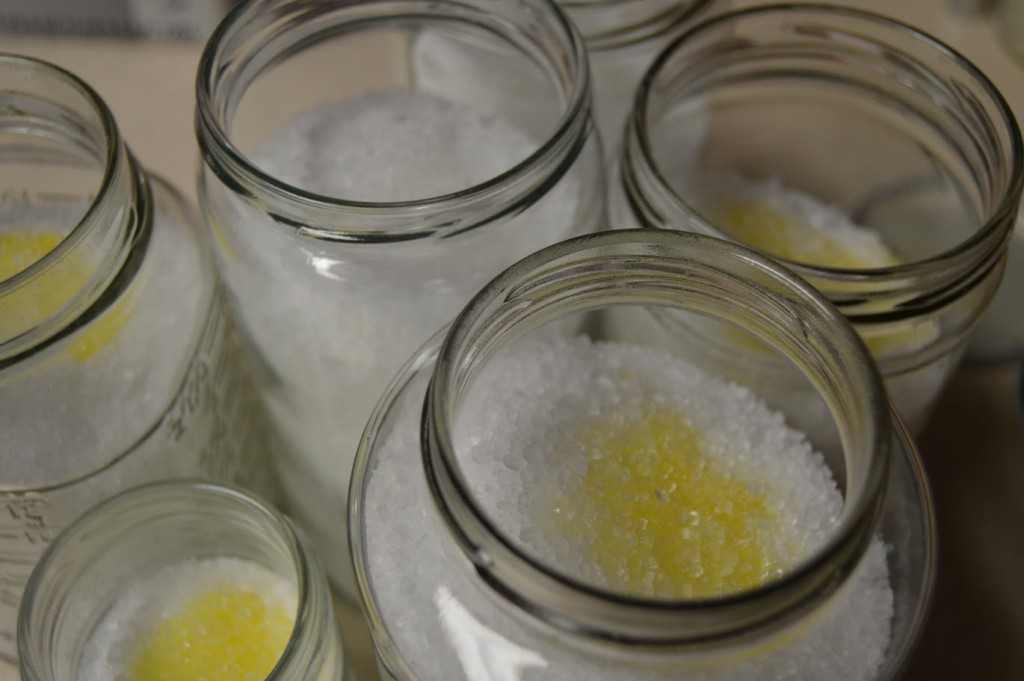 So how do you up that natural spa factor in your home? You are going to need a little more than just a handful of salt. I suggest finding a glass jar at the very least. I like to spray paint the caps of my jars so they look a little fancier. I then put my Epsom salt inside the jar, add about 7-10 drops of essential oil per cup of Epsom salt and for some extra oomph add a tablespoon of dry milk and baking soda.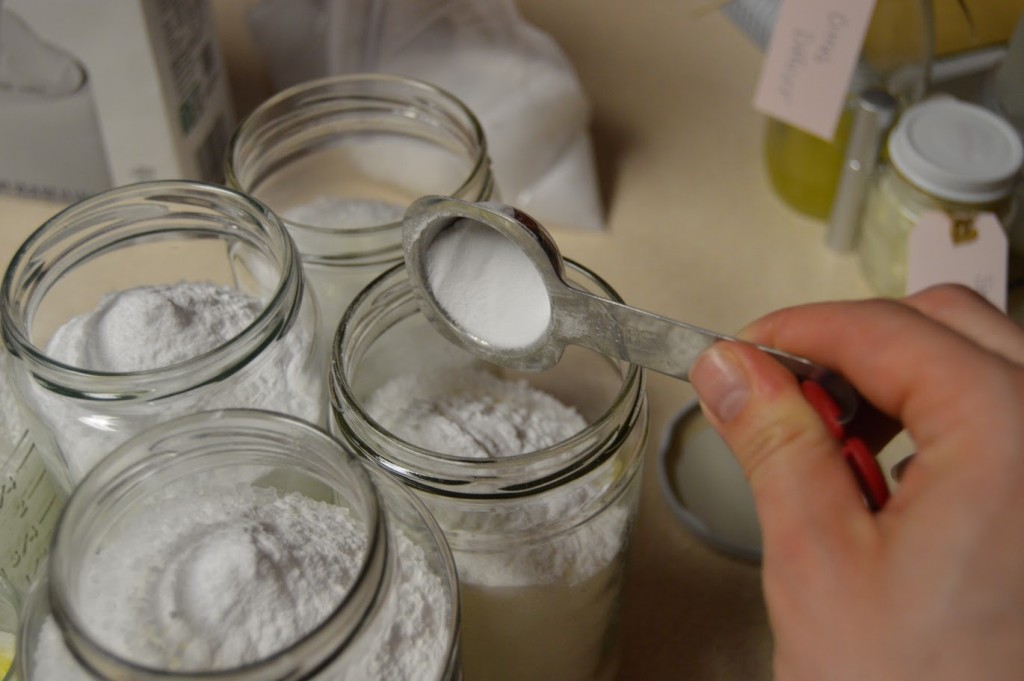 Then you must begin the shaking process, actually my one-year-old is really good at this, she'll carry that sucker around all afternoon. Dropping it, shaking it, rolling it, whatever works, baby, just get those oils moved around!
I've even heard of people squeezing the last few drops out of their empty essential oil bottles this way; just uncap the "empty" bottle and put it in the jar of Epsom salt. It's best to let it sit for a few days so the salt can pull the oil out of the bottle, but when you are ready to use it just dump it in the tub.
Maybe baths aren't really your thing; this recipe is easily made into a salt scrub! Just add coconut or olive oil (about ¼ per cup of Epsom salt). When you are ready to use it (I recommend in the shower) you simply scrub on those areas with the most dead skin cells (elbows, knees, and feet) and rinse the excess salt off. It can be used in your tub this way too, it's fine to add the carrier oil into the tub, you just might be cleaning a little oil off the tub wall (I recommend a lemon essential oil cleaning mixture for this task).
Recipe:
7-10 drops of essential oil or an "empty" essential oil bottle
Optional: 1 TBSP dry milk
 ¼ cup Coconut (melted) or olive oil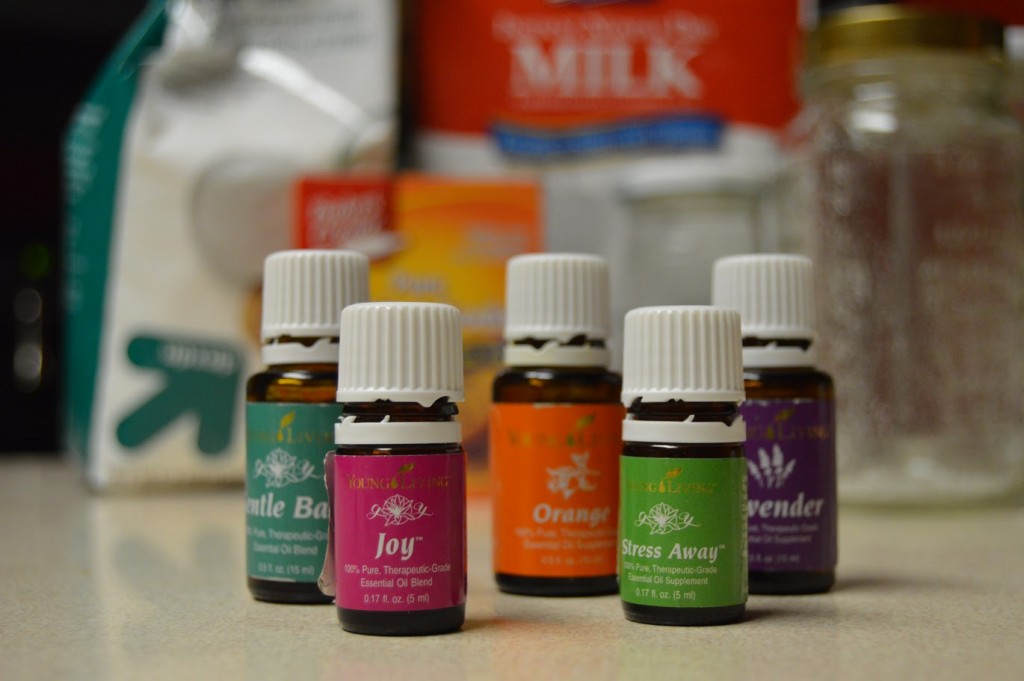 My favorite oil mixtures for bath salts:
Lavender and Cedarwood: An awesome mixture for relaxation and to get you ready for sweet dreams; I'd use this mixture just before bed.
Stress Away: I mean the name says it all; I'd use this mixture after a long day of work.
Citrus Fresh and Orange: This is a great concoction for detoxing, it is amazing the stuff we expose our skin to, so do your ultra-important skin a favor and give 'er a good cleaning!
Clove: I love clove for immune system support! What better way to fight off those winter bugs than by bathing in a warm cup of tea … figuratively, I mean that's what it smells like … don't dump tea bags in your bath.
Gentle Baby or Peace and Calming: I put these on the list specifically for my beautiful daughter. Gentle Baby does wonders for the skin and Peace and Calming is an awesome prep for her bedtime.
Fennel: Weird right? This addition is for those new mommies, not only will this help boost your milk supply, it also aids in bringing your milk in AND it is healing … so to all my friends who are getting pregnant right now, you've got a big jar of Fennel Bath Salts coming your way!
What are some of your favorite mixtures for bath time?
Tracy Gadient: I love how Young Living has afforded me the ability to not only use these awesome products everyday, but also fund our ever growing homestead! I live on a farm in rural Minnesota with my husband, daughter, dog and chickens. I enjoy finding new ways to incorporate the oils into our everyday life and sharing them with others!
Join my team!  http://yl.pe/33j